Please check our home-school diary EVERYDAY for messages, letters and homework.
Welcome to Elephants
We are all looking forward to a very busy but exciting school year! We have plenty of new resources and toys to play with and explore. These will help to support our learning as we explore many varied and interesting activites.
The staff team supporting the children in
Elephants Class this year are........
Our class teacher is:Anne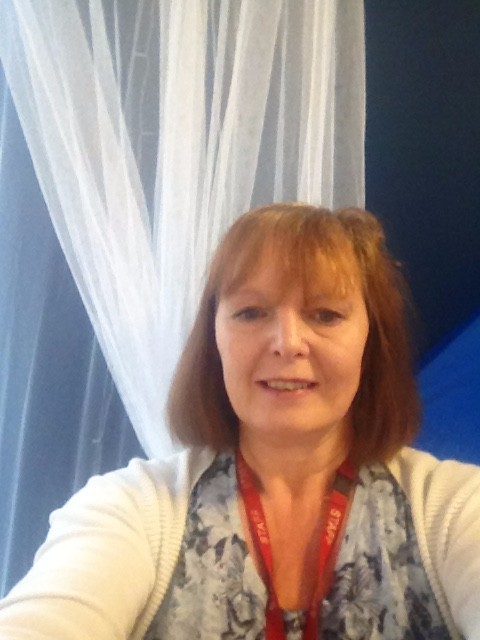 SNTA'S Sonia, Claire, Marya,Lynette,Yasmin,
Samra,Tahira and Barbora.
Feel free to contact us if you have any questions or worries we will be happy to help. The school number is 01274 484242.
These are some of the things we do each week in Elephants class....
Monday - hydrotherapy (Please send my swimming kit in
unless it is kept in school).
Tuesday - music and explore Jungle Gym.
Wednesday - wheelchair bike and wheel chair swing.
On alternate weeks we also share an assembly with some of our frineds from different classes. school.
Thursdays - one of our favourite sessions, Food Technology! We also have PE in the afternoon so we should have plenty of energy to run around or stretch after testing all our baking.
Friday - sensory garden then enjoying a great sensory afternoon, with Tac Pac,music,massage therapy and a chance to choose our favourite activities.
This is a copy of our new weekly time table. If it changes we will let you know.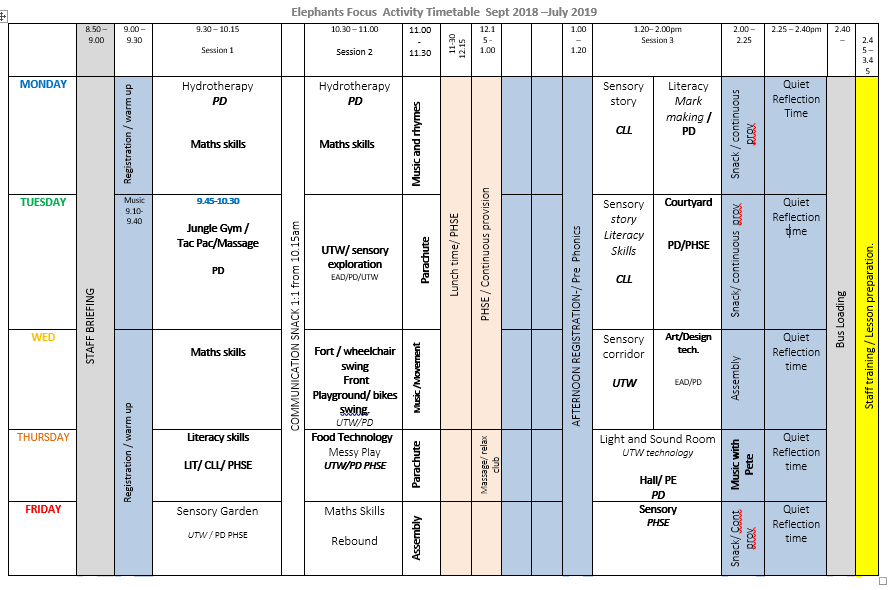 When you visit Elephants Class what will you see?
Across school we are now following the early years format so all our children have the opportunity to learn through continuous provision activities, with the addition of dailyfocused activity sessions to enhance this provision.Each child in Elephants now has their own personal targets and next steps to work on and we aim to provide different resources and activities to support each child's particular learning needs. We plan to make learning fun by developing an environment which provides learning through play.Our ambition is to ensure that all children have resources,activities and learning experiences which they find particularly engaging and consequently have fun whilst learning.
What is continuous provision?
Continuous provision is a structure of planned learning activities and resources which are freely available to children everyday of the week.This provides the children with a constant environment which is safe for them to explore.It enables the children to develop some independence by providing the children with choices.Also by offering the same activities each day the children to have repeated opportunities to explore practice and develop different skills and embed knowledge through repetition.Therefore if you have any suggestions regarding your child's favourite toys,music or activities please share them with us.
But what about core subjects such as English and Maths?
The children in Elephants Class all have different needs and therefore work at slightly different levels but we are all learning to develop very early maths and literacy skills and develop awareness about ourselves and the world around us.Many of the skills we are learning can be applied to different areas of the curriculum and are centred upon a multi-sensory and communication rich approach.
So what does Literacy and Maths look like in our Class?
Phonics
To develop our listening and attention skills we share lots of activities which incorporate environmental,vocal and musical sounds,rhymes and rhythm.We have access to sound books,musical instruments,CDs and interactive sound and action programmes on the computer during continuous provision.
We share intensive interaction sessions and lots of repetitive sound activities such as call and response sessions.We also explore stories and games which involve sounds and listening skills.
----------------------------------------------------------------------------------------------------------------------------------
This half term our topic is entitled,'Who are you?'
We will be getting to know all our new friends in Elephants and around school by sharing activities and games.We will also be devloping our own interests and sharing things we like to do with our new friends.
Our chosen book this half term is 'Elmer The Elephant'.As well as sharing an adapted multisensory story ther will be lots of colour shape and texture to explore.Like'Elmer' we will be learning about sharing fun experiences with different people.
After a very successful trip last half term we are planning to get out and about frequently and explore the local community so please keep checking your child's 'Home school Diary' for letters and informantion.
*********************************************************************
Here is our Topic Web for this half term, We may well add activities and events in the weeks ahead, but these are theh main activites we have planned to share with the children.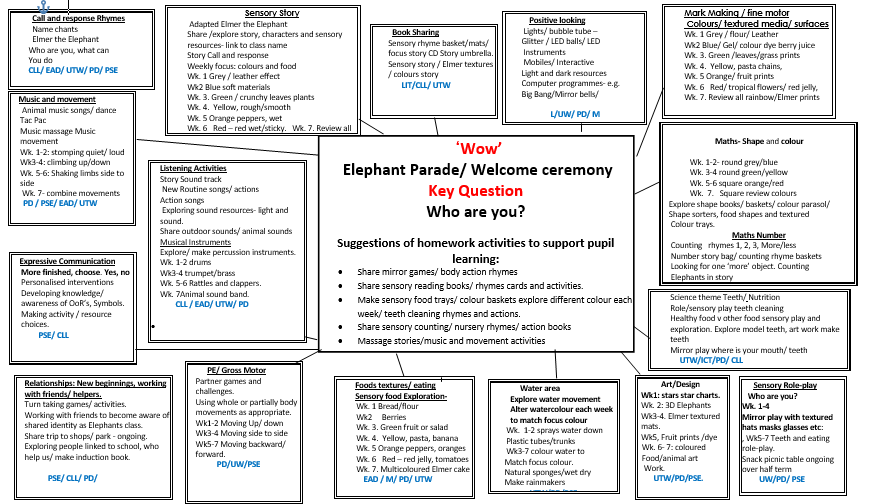 HOW CAN YOU HELP YOUR CHILD AT HOME?
We will be sending homework home on a Thursday please return it to school the following week so that we can share all the books and resources with your child's class mates. Please use the homework feedback forms you will find in your child's homework bag so that we can ensure the items we send home are useful and fun for you to share with your child.