Welcome to Rabbits Archive
2016-2017
Have a look below at some of the things we got up to during our year in Rabbits.
Summer 2 2017
This half term we are focusing on the story 'Driving my tractor'.
We will be exploring lots of different animals that live on the farm .
Summer 1 2017
This half term focused on the story 'There's a hole at the bottom of the sea'.
We had a great time in our 'Under the sea' themed classroom and really enjoyed lots of activities based around water. We enjoying using our fine motor skills to go fishing and our physical skills to pretend to be different animals under the sea.
Spring 2 2017
This half term we had been exploring lots of gardening activities through the topic 'Holes'. We focused on the story 'Jasper's Beanstalk' and our call and response song. Have a look below at some of the other things we got up to.
Spring 1 2017
We really enjoyed our Weather topic and exploring the story Maisy's Wonderful Weather. Our favourite activity was exploring the ice cubes in lots of different ways. Some of us even managed to use tweezers to move them from one container to another!
Autumn 2 2016
This half term we will be looking at the story of 'Spot's Birthday'. We will be playing lots of party games, exploring lots of different sized and shaped presents and hunting out hidden objects. Have a look below at some of the things we will be getting up to.
Autumn 1 2016
Our first half term at Chellow Heights was new to most of us in Rabbits and as part of our topic 'All About Me', we enjoyed looking at the story 'The Tiger Who Came to Tea'. Have a look below at some of things we got up to. We loved our Tea party at the end of the topic where our parents came to join us and we had a surprise guest when a tiger knocked on the door to join us!
Rabbits
2015-2016
Some of our highlights.
World Book Day 5th March 2015
Our adults dressed up as characters from our focus story 'Jack and the Beanstalk'.
Lest we forget
We all worked really hard on our poppies. We used a roller to paint the grass, a Koosh ball to make the poppies and our fingers to finger paint the middle.
We decorated 9 stars with a range of sensory, sparkly materials to represent all the children who have lost their own battles since Chellow Heights opened.
At 11am, we used our candles to think about all of our friends and everyone who helps us.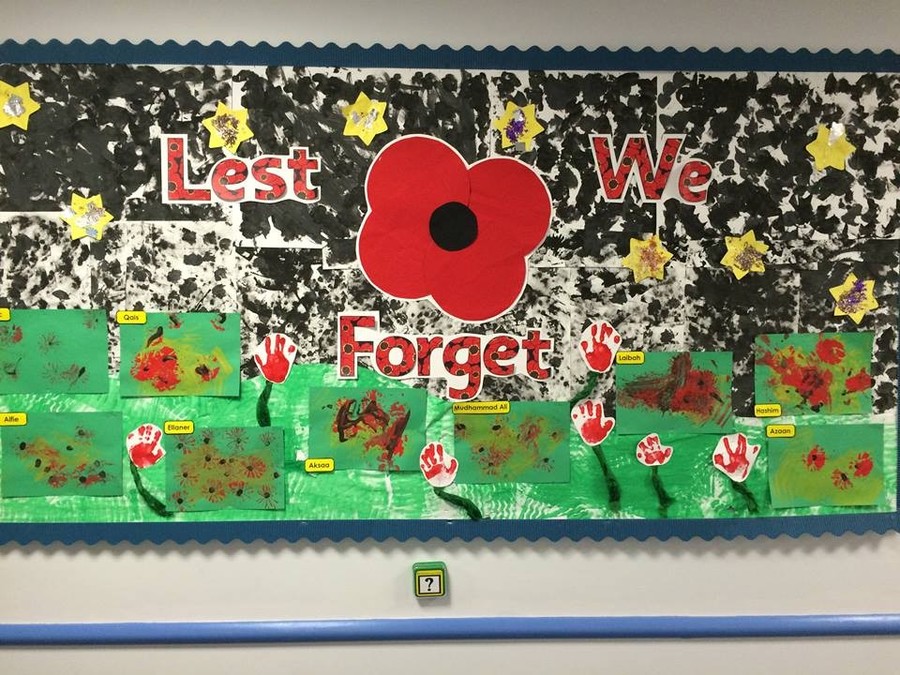 The staff in Rabbits took part in dressing up as Superhero's to support Children In Need. We nicknamed ourselves 'Rabbit Rangers!'.
Chellow Heights Guy Competition
We made our guy out of a DIY suit. We painted the suit and screwed up lots of paper to fill the inside. We coloured in the ears and made some carrots. We called him 'Rodger Rabbit'. Unfortunately, we didn't win this time but all our staff were very proud of how hard we worked and how great Rodger looked. Well done everyone!
Eiffel Tower Competition
We loved building our Eiffel Tower as part of French Day. Our favourite part was using the sellotape to stick it all together. We then covered it in tinsel to stay within our Christmas theme.