Chellow Heights News 2015 - 16
18.12.15
Thank you to Santa who worked his magic and appeared on both our west and south sites today. At points he was even accompanied by elves and an angel - you may or may not recognise them!!
Thank you to them all but especially Santa!
5.12.15
Thank you to everyone who came to support our Xmas Fayre at Chellow Heights South on a cold and blustery December Saturday. It was our first major weekend fund raiser on our south site and we always worry that no one will come but the school was 'buzzing'. As well as children and staff it was great that members of the local community who came to support us. Over 150 visitors and we raised £1035.98 in just two hours!!! The funds will go towards developing the playgrounds on the south site.Well done everyone!
4.12.15
Thank you to the Flamingo Chicks for our fabulous Dance sessions this half term - we hope you will be back with us in the new year.
4.12.15
French These Day at Chellow Heights. Lovely to see everyone following the red white and blue theme and experiencing the French foods. Well done everyone
3.12.15
Thank you very much Lords Taverners and BT for our fantastic sensory room on Chellow South and particularly to Simon from Lords Taverners who came to do the official opening. It will be so well used - particularly this weekend when it becomes Santas Grotto for the Xmas Fayre.
25.11.15
Today we held the Chellow West v South Football match. Depending on which child you ask both the west and the south won and the score was 8 - 7 and 100 - 80 but whichever version you believe it was a fantastic match - well done everyone!!
25.11.15
Thank you to the people from Remploy who gave up their time today to support the children and staff with the tidy up of the sensory garden on Chellow West! If anyone wants to volunteer on a regular basis our sensory and memorial gardens always need loving care! Thanks again!
17.11.15
I'm sure you will join us in wanting to say a big thank you to our friends and supporters from Bradford Grammar School, who called in to present us with a cheque for the magnificent sum of £3,500!!!
The Y8 pupils raised the money earlier this year by taking part in a sponsored walk and the donation will be used towards an outdoor wheelchair accessible trampoline. We are extremely grateful to all involved at BGS for their ongoing support, which not includes fundraising, but volunteering too.
17.11.15
Thank you to Pam for organising the cookery class for the Family and Friends group at Chellow Heights South
Thanks to everyone who has helped us with fund raising in November.
We raised £72 in 2p pieces as part of our Poppy Day fund raising event and £271.14 for Children in Need. Well done everyone.
13.11.15
We had a great time raising money for Children in Need.
12.11.15 We got a certificate from the RNIB for raising lots with dots - £79.75. Well done everyone!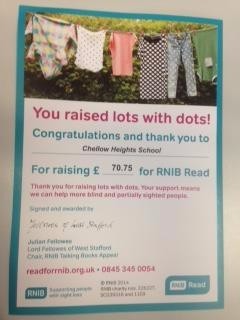 11.11.15
We also wished all our friends who were celebrating a Happy Diwali!
11.11.15
We had our 2 minutes silence in school to 'remember'. During the morning children placed coins on a large poppy whilst listening to the 'Last Post' which they played for themselves on a Big Mack. As well as remembering those fallen in battle we remembered our children who have also 'fallen' over the last 5 years in their personal battles. Too many and too young but always in our hearts.
Our topic this half term is 'Hidden Treasure' and many classes are taking on a Pirate theme. We look forward to sharing the photos with you!
Help us win £25k to develop an Outdoor Sensory Area at South
Thanks to the hard work of our Charities and Fundraiser, Vicki Street we've got through to the next stage of an application to win £25,000 for a sensory garden at Chellow South. By clicking below and voting you can help transform this area into a fun outdoor learning environment for our pupils.
Voting is open until November 3rd. Click here and vote for Chellow!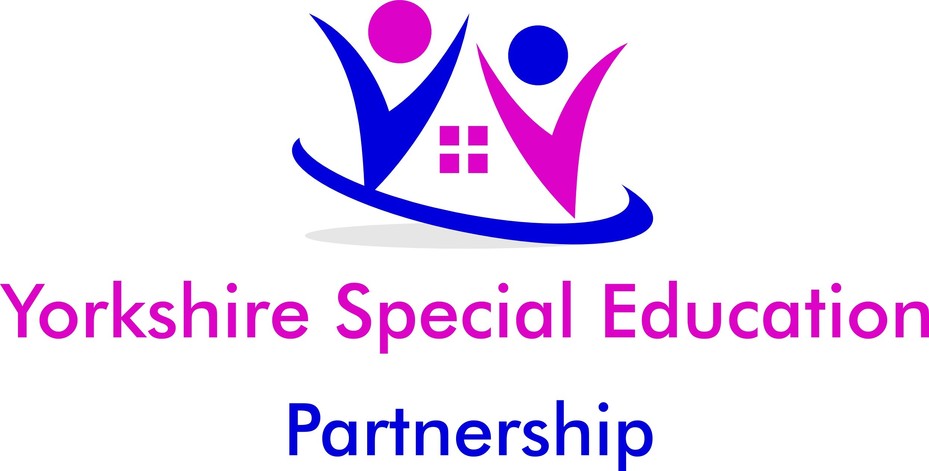 Chellow Heights is the lead school in the Yorkshire Special Education Partnership. A partnership of Special School in West Yorkshire our focus is to provide high quality teacher training for those with a strong desire to teach in SEN schools. In collaboration with Leeds Trinity University we offer a one year initial teacher training programme which awards both QTS and PGCE Level 6, with the option to study to level 7 in your NQT year.
We are pleased to announce that we have received formal approval from the National College of Teaching and Leadership to run our programme in 2016/2017. We expect to begin recruiting to this programme in November 2015. If you would like any information about our programme, please email Suzanne Craig on
Tubs4Tabs!
We have registered with the Flora Tubs4Tabs scheme which will allow us to access additional tablets for use in school. Tablets are used in all our classrooms in a variety of ways to assist our children in learning and progressing. For every 50 tokens collected we will receive a shiny new Samsung Galaxy Tab 7.0" Wi-Fi 8GB. To help in this scheme simply:
Collect Tubs4Tablets tokens inside special 500g tubs of Flora Original or Light and Buttery 500g – available from Tesco stores only from 23rd September 2015

Hand the tokens into school – we will then submit them just before Christmas on the 18th December 2015
Bradford libraries get communication tool for people with learning disabilities
Boardmaker is now available in the following libraries; Bingley, City Library, Eccleshill, Ilkley and Manningham. It will also be available in Shipley once it has been refurbished. For more information and to register for use of this tool visit the Bradford Council Website. or download this leaflet.
Click the tabs on the left hand side for archived school news