What we want classes to do this term.
Our classes are currently talking about the things they would like to be developed in school next year and how they will spend the school council money. Make sure your class representative knows what you would like!
About our School Council.
Each site at Chellow Heights has a School Council.
They look at the site specific needs of pupils.
Each Class has a representative on their site School Council.
We meet half termly to talk about things that are important to us.
We vote to make decisions as we are part of a democracy.
We believe in the Fundamental British Values and in Equality for all.
This is our School Council Call and Response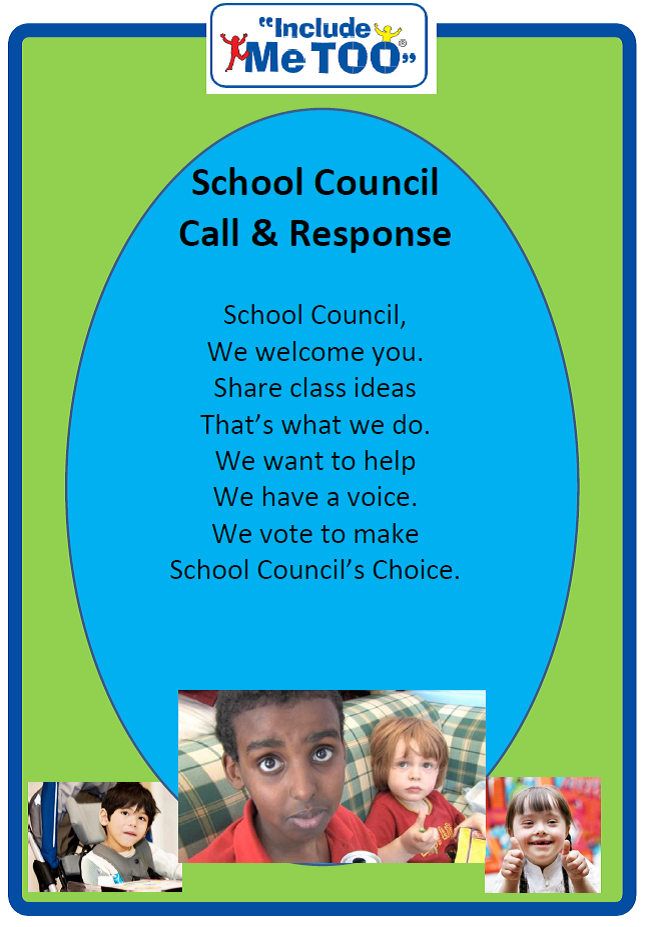 As a School Council, in 2013, we signed up for the
Charter of Rights for Disabled Children and Young People
In 2016, our School Council have consulted their classes and decided that they still want to be part of this movement as they believe they reflect our Fundamental British Values.
'Include Me Too'
"Freedom of choice is what I want.
Doing things that others do.
Equally is how I should be treated.
Look at me, I am just the same as you.""
This Charter is supported by many national and international groups and companies.
Click the logo to go to the website to find out more about 'Include me Too'

The Include Me Too Standards
Standard 1
To have the right to learn and celebrate our culture in and out of school settings
Standard 2
To be listened to and taken seriously
Standard 3
To have more choice in what we learn and how we learn and develop
Standard 4
To express ourselves and have equal opportunities to be involved in activities
Standard 5
To be included in decisions that affect our lives
Standard 6
To be treated equally and respected for being a unique individual
Standard 7
To have the chance to grow and be successful
Standard 8
To feel safe and be safe
Standard 9
To not be bullied because of our impairments, culture or background
Standard 10
To help change and improve services